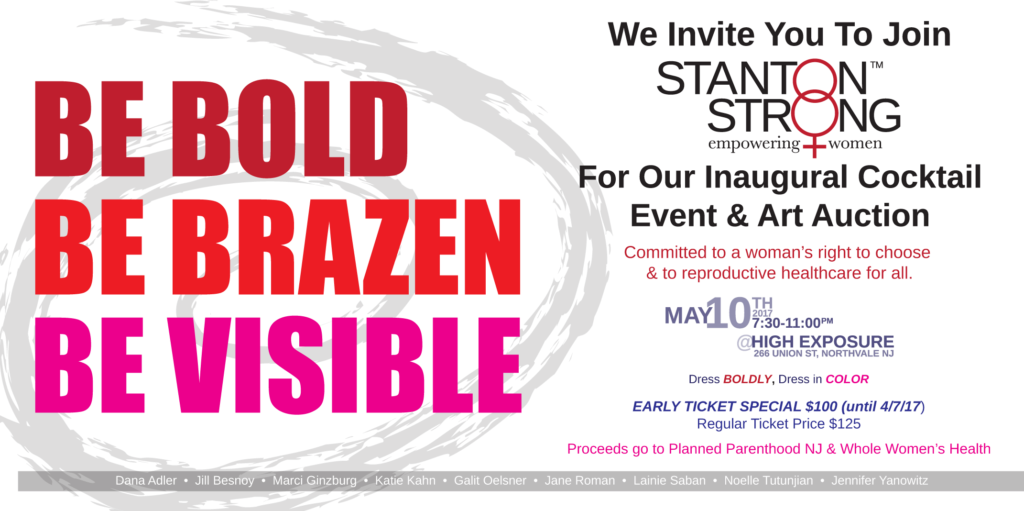 Proceeds of Event
100% of the proceeds from this event, after expenses, were divided between Whole Woman's Health and Planned Parenthood of New Jersey.
 WHOLE WOMAN'S HEALTH 
Whole Woman's Health is a privately owned feminist organization committed to providing comprehensive and holistic gynecologic healthcare for women, including abortion care, through their collection of women's clinics throughout the country. Whole Woman's Health was founded in 2003 in Austin, TX in response to the need for a more holistic model of women's healthcare. Since its founding, the organization has opened seven facilities nationwide, and sees more than 30,000 women a year for reproductive healthcare.
In 2014, Whole Woman's Health's flagship clinic in Austin, TX was forced to close due anti-abortion legislation that was particularly damaging in that state. Ultimately that legislation shuttered over half the clinics in the state.  Proceeds from Stanton Strong's inaugural event went toward helping Whole Woman's Health open a new clinic in Austin.
PLANNED PARENTHOOD OF NEW JERSEY
Planned Parenthood of New Jersey serves 70,000 women who rely on their services as their main source of healthcare. Through Planned Parenthood, these women, many of whom are underserved and at risk, receive life saving cancer screenings (including PAP tests, colonoscopy and breast exams), HIV/AIDS and STD testing and counseling, birth control and family planning, terminating unwanted pregnancies and gynecological health care.
In 2010, Governor Christie eliminated $7.5 million from the annual NJ State Budget that was earmarked for family planning.  This action forced 6 family planning health care centers (3 of which were Planned Parenthood centers) to shut their doors, resulting in reduced services and overburdened clinics throughout New Jersey.  The funding was recently restored under Governor Phil Murphy, but there is still a public health crisis in Bergen County.  STDs are up 75%. Breast cancer cases are up 11% and the disparity for women of color is alarming with an increase of 55% for black women and 48% for Latinas.  Proceeds from Stanton Strong's inaugural event went toward direct service of New Jersey women who rely on Planned Parenthood's services as their primary healthcare.